The storage in the bathroom is needed for every bathroom, large or small alike. Small bathroom vanity units can be incredibly helpful when you intend to increase the storage capacity. Having a small bathroom or cloakroom does not mean you should compromise on aesthetics and comfort. There is no doubt that upgrading, or makeover of a compact bathroom is usually a big problem. You will require to carefully plan it as per the available space and layout. That's because, in comparison to large spaces, a small change in vanity units UK significantly changes overall looks.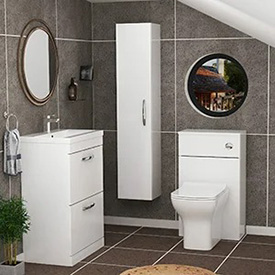 While there are various kinds of vanity units on offer in the market, not every type of storage item is suitable for a small area. From size to position and availability of plumbing, you will have to consider various things.
Are Small Bathroom Vanity Units Offers a Solution?
There are various kinds of storage available in the market. You can choose your option basis on the various factors. The small bathroom vanity units are a specific category or range of storage cabinets with a sink fitted over them. These are specially especially intended to fit into small spaces. Therefore, if you have a cloakroom, ensuite or small area to deal with, then this range includes all the compact size storage solutions for you. It will save you from the hassle of identifying what can be a suitable pick for your bathroom.
What Size Should Vanity Unit Be in Small Bathroom?
The size of the vanity unit UK that you can install in the small space, or a cloakroom depends on the available space in your bathroom. It may start around the 400mm width, with more choices available in 500mm or more depending on the type and style. If you choose a double sink, then it may even go up to 1200mm or even higher.
Options for Small Bathroom Vanity Units.
When planning to set up a small bathroom vanity unit, it is important that you carefully pick the preference as per your layout and size requirements. You may have the following options available to decide from.
Your top-of-the-list preference for a vanity unit is floating style bathroom furniture. These are the highly space-saving possibility among all sorts of vanities. That is because of their fitting wall design. The space down the floating vanity creates the feel of spaciousness in the bathroom. In addition to that, it has a minimum projection in the bathroom. There are the top sink-fitting style vanities that make them even more space-saving. With it, not only do you get stylish floating style storage but also no need for a separate sink. However, such units are relatively expensive for installation.
Small Freestanding Vanity Units.
Generally, the vanity units that sit on the floor are not considered a space saving option. But manufacturers have come up with an innovative new design that is suitable in case you can not install a wall hung style due to any reason. These are relatively small in comparison to standard freestanding vanities. With a sink fitting over them, you can incredibly save space by eliminating the need for a detached sink.
Small Combination Vanity Units.
Another incredible space-saving option that is suitable for small spaces is a compact combination vanities. These storage cabinets combine storage, a toilet, and a sink. It combined these fixtures in a unit. It makes not only it suitable for you to get all you require with a single purchase but also less uses space possible. As with single fittings, you get everything that becomes space-efficient that may have been required at other spaces. 
The bathroom corners are a space that often goes to waste. We rarely have anything to keep in such space. When we have a small bathroom, then every bit matters. That's why if we can use the corners, then it can be helpful for saving some space. Manufacturers have created such storage that can fit into the corners. These usually come with a top sink fitting to offer even more space-saving. 
Final Thoughts about Small Bathroom Vanity Units.
In case you have plans to add storage in a small space or a cloakroom, then it is important to find the best possible option according to space and preference. We discuss various types of small bathroom vanity units that can be a suitable option for you. You can visit Royal Bathrooms' online store in the UK for suitable storage.